Spivo's Featured Property Hunt and Fish Report
Thanks for visiting my personal fishing report page for our featured property - Bogota, Texas.
This land is a great opportunity for someone that's seeking both good hunting and great fishing.
Fishing:
This property features 4 tanks (2 smaller tanks, a medium tank, and the large tank). There are two tanks with excellent fishing. I fished both of these tanks in one afternoon. (May, 2003)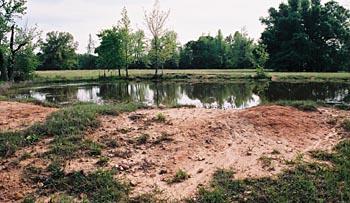 Small Tank - Approximately .75 - 1.25 Acres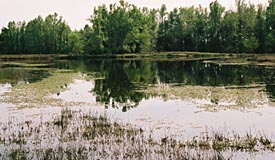 Larger Front Tank - Approximately 3.5 - 4 Acres

It was probably 90 degrees outside - hot, and it was roughly 6:00pm. I fished the larger tank and the fish were hungry! I caught a 2-3 lb. largemouth bass on my first cast (spinner bait). On the second cast, I hooked a large one...broke my line before I had a chance to land it. Pretty exciting. I went on to catch approx. 8 other bass in less than an hour averaging from 1.5 lbs. to 4 lbs. each.

The bass are clean, hungry and aggressive. I used a combination of two lures, a blue jig with a blue/black pork tail and a yellow spinner bait.

My friend fished the smaller tank while I toured the rest of the property. He caught some of the largest brim I've seen in a private pond...especially a pond that size. They were very healthy with beautiful colors.

The current owner and son-in-law both told me that there are 10lb. bass in the large tank. I'll be back out - for more!

---
Hunting:
The current owner informed me that the deer and dove hunting are pretty good. On my first trip out to the property, I scared up a few deer at the in the bottom of this valley: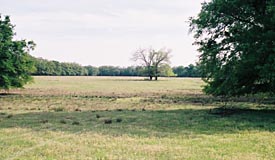 The current owner said the dove hunting is fairly good and would be much better if there was a crop or two planted (such as sunflowers) to generate more local birds. I always see tons of dove before dove season, I'll update this portion of the report in September.