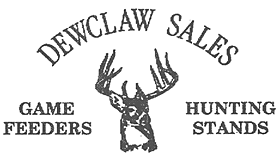 (214) 321-2979
www.gamefeeder.com
Feeder Mechanisms | Feeder Packages | Must See Page | Deer Blynds, Etc.
Kenco Feeders, Remington Feeders, Bulldog Feeders, Sportsmans Feeders, Stren Fish Feeders,  The Blynd hunting blinds, Non-Typical DeerCam wildlife cameras, Koi Feeders, HogLight, Hog Traps, Tornado feeders, ground level air drive feeders, protein feeders, metal barrel funnels & oversized lids, solar panels, rechargeable batteries, varmint guards, hog traps, Horns-A-Plenty Mineral, RackUp, Beast Feast
---
DEWCLAW SALES - since 1987
---
The Dewclaw Philosophy: Combine the Power of the Internet with Old Fashioned Customer Service.
In Stock Items ship same or next business day.

---
Hog Trap | Coyote Trap | Bobcat Trap | DeerCam and Game Cameras
---

In addition to accepting major credit cards we are proud to accept payment via PayPal.  We believe PayPal to be the #1 online payment service on the Internet.  You can check out their web site at:    www.paypal.com
Currently, we do not have an online ordering system.   We've combined old fashioned customer service with the high tech world of the Internet.  You can phone our sales line and speak to a knowledgeable, helpful sales person! If you are outside of the Dallas-Ft.Worth area, phone our sales department TOLL FREE at (877) 537-2394. We thrive on educating the customer, not on high pressure sales tactics.  Dewclaw Sales wants you to know what you are getting and be happy with your purchase!
We service any make/model of mechanical clock feeder, no charge for estimates.
---
DEWCLAW SALES - Since 1987
Phone Sales - 9 a.m. to 9 p.m. cst - DAILY
Counter Sales Welcomed!  Please Phone Ahead
Dallas-Ft.Worth Area - (214) 321-2979
Outside Dallas-Ft.Worth Area, Toll Free - (877) 537-2394
---

Authorized Shipper
A word about e-mail...  We treat e-mail with nearly the same urgency as telephone communication.  E-mail is checked several times over the course of a day and answered as promptly as humanly possible.  We love talking with our customers via voice phone but rest assured your e-mail receives a high priority too!
Contact by e-mail:
mailto:info@gamefeeder.com
E-mail checked & answered DAILY!
Deer Feeders, Hog Traps, Kenco Feeders, Deer Blinds, Deer Attractant